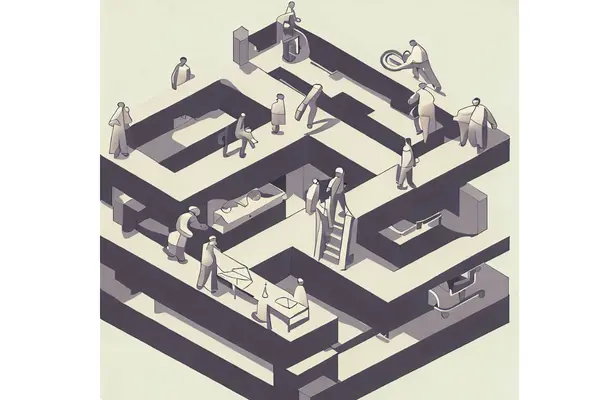 The healthcare industry has undergone a significant transformation in recent years and marketing for healthcare providers is no exception to this evolution. Gone are the days of relying solely on word-of-mouth referrals and traditional advertising channels. In the 21st century, healthcare providers must embrace a range of digital marketing strategies to attract and retain patients.
To effectively market healthcare services, providers must take into account the unique needs of the industry, including privacy concerns and the importance of building trust with patients. I talk about three of the most effective digital marketing strategies that can help healthcare providers reach new patients and build long-term relationships.
Content Marketing – More Bang For Your Buck
Content marketing involves creating and sharing valuable information that helps potential patients better understand their health concerns and the services offered by the provider. Content marketing can take many forms, such as blog posts, ebooks, and videos.

Many healthcare professionals overlook content marketing as an effective way to establish authority and trust with potential patients. By sharing educational content on topics relevant to the provider's services, healthcare organizations can position themselves as experts in their field.
How Content Marketing Can Benefit Healthcare Practitioners
Builds Brand Awareness: Content marketing is an effective way to build brand awareness by providing valuable information that attracts and engages a large number of potential customers. This helps to create brand recognition and credibility.
Website SEO: Consistently publishing high-quality content will increase Organic visits to a practice's or practitioner's website traffic. This is a foundational building block for SEO which is how you get your web pages to rank highly on search engines. Quality content will help improve your site's search engine rankings, but also increases the likelihood of converting visitors into patients.
Cost-effective: Compared to traditional advertising, content marketing is relatively cost-effective. It is not that creating high-quality content isn't expensive and requires time and effort, it does. But it is still a more cost-effective approach than other digital marketing strategies.
Builds Trust and Loyalty: Providing valuable and relevant content helps to establish trust and build long-term relationships with patients. When practices, clinics, and especially the practitioners themselves consistently provide helpful content, new patients and current patients can learn about their provider and their expertise in their area of practice.
Measurable Results: Content marketing provides lots and lots of data that can be analyzed to help provide insights into future content creation. Metrics such as website traffic, engagement, and conversion rates are a few of the KPIs that can be tracked to determine the effectiveness of your content marketing strategy.
One proven content marketing strategy for healthcare providers is to create a library of resources that patients can access online. An example of this would be the series of videos on child development we helped one of our pediatric clients produce. Another is the collection of articles on the latest treatments for depression that we helped develop and publish for a psychiatrist we worked with. Resources like these can be shared on the provider's website, social media channels, email newsletters, and are often linked to by other websites.
Backlinks from other websites are a benefit of content marketing that will help improve your website's search engine rankings. Links from high-quality, informative content that targets relevant topics/keywords are one of our main goals for your content strategy. This helps your website because it sends signals to the various search engines that others see your content as knowledgeable and important. This helps your content rank higher on the Search Engine Results Pages (SERPs) thus improving their visibility in search results which will attract more organic traffic to your website.
Successfully using content marketing as a marketing channel is not as easy as it sounds. Like all marketing, there needs to be research and planning so your money is not wasted.
"You can never go wrong by investing in communities and the human beings within them."

– Pam Moore, CEO of Marketing Nutz
Another benefit of SMM is the ability to target specific demographics with paid advertising (you will read more about this in the next section). For example, an OBGYN clinic might create a Facebook Ad Campaign targeted at women over 40 who are interested in wellness and fitness. The end goal of this campaign would be a social media group composed of highly engaged patients and prospective patients. Strategies like this one let you double-dip into both patient acquisition and retention.
Paid Advertising – Immediate & Lasting Results
Paid advertising can be an effective way for healthcare providers to reach new patients quickly. While traditional advertising methods such as billboards and radio ads can be effective, digital advertising offers more precise targeting and measurable results.

There are many case studies for using a paid advertising strategy for healthcare. The most well known and effective is for providers to use Google Ads to target patients searching for specific medical services. For example, a psychiatrist might create an ad campaign targeting patients searching for "TMS therapy" in their local area. By bidding on relevant keywords and creating compelling ad copy, providers can attract new patients who are actively searching for their services.

Another popular and effective paid advertising strategy for healthcare providers is to use Facebook and Instagram ads to target specific demographics. One client of KDMC's is a fertility clinic that specializes in egg donation. We created an ad campaign for them targeting women between the ages of 21- 35 who are interested in travel and education that would like to earn extra money. Our designers created visually appealing ads that resonated with the target audience. This campaign increased monthly leads from prospective donors by over +27%. This is one example of how providers can attract new patients who may not have been aware of their services otherwise.
Attracting New Patients & Retaining Current Ones
Healthcare providers must embrace a range of digital marketing strategies to attract and retain patients. Content marketing, social media marketing, and paid advertising are all effective ways for healthcare providers to connect with potential patients, build relationships, and establish trust. By creating valuable educational content, engaging with patients on social media, and using targeted advertising, healthcare providers can improve their visibility and attract new patients. However, it's important to keep in mind the unique needs of the healthcare industry, including privacy, the importance of building trust with patients, and kind and caring interactions with staff. By implementing these digital marketing strategies thoughtfully and strategically, healthcare providers can successfully acquire new patients and build long-term relationships with them.
Learn More About KDMC Healthcare Marketing