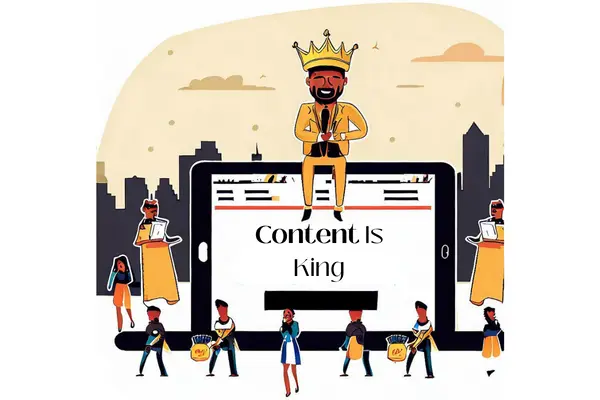 Content creation has become a vital aspect of modern marketing strategies. As businesses continue to compete in a crowded digital landscape, the importance of creating engaging, informative, and valuable content has never been higher. However, some may question the importance of content in today's world, with so much noise and competition online. In this article, we will explore the significance of content and why it remains king in today's marketing world.
The Data On Content Marketing
Your company relies heavily on its online presence to attract and retain customers while creating high organic search traffic for a high return on investment (ROI). It's clear that businesses need to prioritize search engine optimization (SEO) to be successful in their content marketing efforts. This list provides some key statistics that highlight the importance of content marketing, SEO. and the impact they can have on a company's online visibility and success.
Here are 7 interesting stats to prove our point:
68% of online experiences begin with a search engine (Brightedge).
71% of B2B researchers start their research with a generic search instead of branded search (Google).
53% of shoppers say they always do research before a purchase to ensure they are making the best possible choice (Google).
Almost two-thirds of global online search comes from mobile devices (Perficient).
69% of marketers actively invest in SEO (HubSpot).
The more backlinks a page has, the more organic traffic it gets from Google (Ahrefs).
Only 5.7% of pages will rank in the top 10 search results within a year of publication (Ahrefs).
90.63% of pages get no organic search traffic from Google (Ahrefs).
The average #1 ranking page will also rank in the top 10 for nearly 1,000 other relevant keywords (Ahrefs).
The importance of content marketing and SEO cannot be overstated when it comes to building and maintaining a strong online presence. These seven statistics highlight the significance of investing in content creation, strategy, and SEO to increase online visibility and generate organic search traffic, which can lead to higher ROI for your marketing budget. With the majority of online experiences beginning with a search engine, and shoppers & clients conducting research before making a purchase, it's clear that businesses must prioritize content and SEO to remain competitive.
Why, How, and What Works for Creating Content
I have established reating informative and engaging content is key to attracting and engaging potential customers. From emotional marketing messages to email newsletters, content-rich marketing and social media engagement, there are a variety of strategies businesses can use to stand out from the crowd. High-quality content not only helps your team, brand, or company establish thought leadership and build trust with potential customers but can also lead to increased sales and long-term business relationships. However, it's important to avoid creating sub-par content. Focus should be on creating valuable and compelling content that resonates with your target audience that is why strategy and campaign planning is so important. In this list, we explore various content marketing strategies and their potential impact on customer engagement and conversion rates.
Providing information to prospective customers: In today's digital age, consumers have access to a vast amount of information about products and services. Creating informative content that addresses their needs and pain points is an effective way to attract and engage prospective customers.
Emotional marketing messages work better than promotional ones: By creating content that appeals to people's emotions, businesses can build a connection with their audience and establish trust. This can lead to higher engagement and conversion rates.
Content-rich marketing leads to higher conversion rates: Quality content that provides value to prospective customers can help build trust and establish thought leadership, ultimately leading to higher conversion rates.
Email newsletters and content creation are important: Email marketing remains an essential tool for reaching prospective customers, and creating compelling content is crucial for success in this area. Email newsletters can keep potential customers engaged and informed, leading to increased sales and brand loyalty.
Interesting content leads to more followers: Creating content that is engaging, informative, and entertaining is an effective way to build a loyal following on social media and other digital platforms.
Content impacts vendor selection in B2B marketing: In the B2B space, high-quality content can establish thought leadership and build trust with potential customers. This can lead to increased sales and long-term business relationships.
Smart marketers avoid sub-par content to maintain quality: In today's digital landscape, low-quality content can harm a brand's reputation and hurt its digital marketing efforts. Investing in high-quality content is essential for building a strong brand image and engaging prospective customers.
Creating high-quality and engaging content is a crucial aspect of any successful digital marketing strategy. By providing informative content that addresses the needs and pain points of prospective customers, appealing to their emotions, and establishing thought leadership, your company can build trust with its target and existing audiences which ultimately increases leads and/or conversion rates. By investing in the content creation of articles, videos, and graphics that are informative and entertaining your business and brand can build a loyal following, be discovered by new customers, and increase its revenue.
Learn More About KDMC Healthcare Marketing